The rise of contactless payments has been evident just after the worldwide pandemic. More and more people do not want to deal with the thought of physically cash-carrying numerous invisible germs from various places. Because of this, money-transferring services like Venmo have been gathering more popularity. Previously, Venmo allowed you to transfer money between yourself and another member of your contact list. But many stores in the US have started taking Venmo as a type of payment. In this article, we will dive more into the stores that accept Venmo QR codes.
What is Venmo QR Code?
The Venmo QR code allows you to find people easily on Venmo. You have to scan the person's Venmo QR code, which will directly lead you to their profile. From the "Me" tab, you can find the QR code, which usually stays by your profile picture. Then, you can scan the code by tapping on it. There are also options for sharing your code using text messages, email, or other ways. The code is unique for every user to keep the user's privacy and maintain safety. To make things easier, you can add your Venmo QR code to the phone's home screen using an app widget.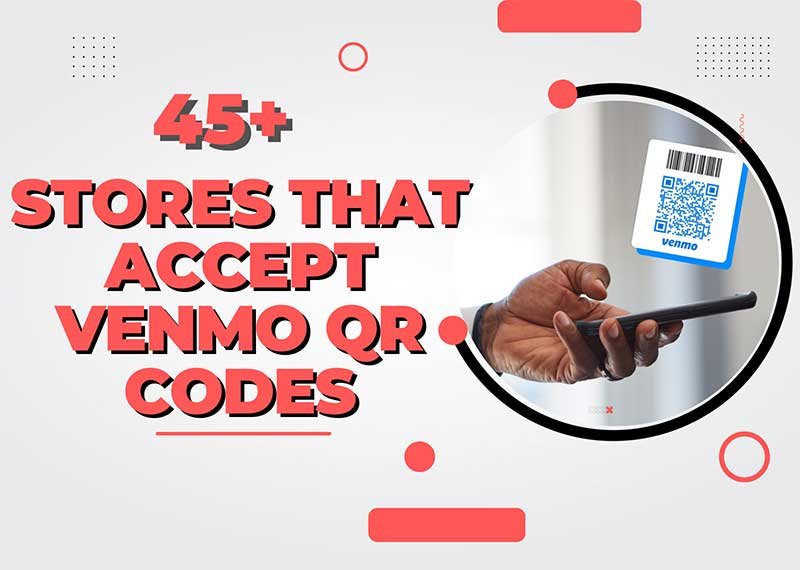 How to Use Venmo QR Code?
There isn't much to it when it comes to using the Venmo QR Code. The process of utilizing it effectively requires no mental effort. The following is a list of the several ways in which you will be able to utilize your Venmo QR code.
When Merchant Provides Code?
When you are in the store, the merchant is supposed to provide you with a Venmo code.
From your Venmo app on your phone, scan the code.
Then, they will ask you to confirm your purchase on the app.
Once you have confirmed the purchase, the transaction is complete.
When Merchant Does Not Provide a Code?
If the merchant does not provide a code, you must let them scan your in-store QR code from your phone.
Go to your profile and tap "Show to Pay" to bring your QR code.
The merchant will scan your QR code to make the payment.
If you want to change your method of payment, then do so before the merchant can scan your QR code.
How to Scan Venmo QR Code from a Text?
This may seem like a challenging task to some, but it is not. Keep reading to learn how to scan a Venmo QR code if you receive one via text.
Select "Google Lens" It looks like a camera with a lot of different colors and it's located right next to the search bar.
When the lens screen comes, tap on the photo library.
From your gallery, find the image of the QR code you received from the text.
Google Lens will scan the code, and a link will arrive at the bottom of the screen.
Once you click on the link, it will take you to the payment procedure information of the Venmo user who sent you the code.
Now, you can follow the usual steps to pay them the required amount.
How To Print Venmo QR Code?
You're Venmo me QR code may be found in the Venmo app:
Visit the "Me" tab.
To scan a QR code, press the button next to your profile photo.
Tap me on Venmo.
To transfer the code through email, text message, and other methods hit the share button.
23 Stores That Accept Venmo QR Codes
Various stores around the US accept Venmo QR codes, such as –
Hollister
Bed Bath & Beyond
Jane.com
Urban Outfitters
Target
J. Crew
William Sonoma
Postmark
Seamless
The Home Depot
Uber Eats
Walmart
Lululemon
Delivery.com
Hulu
Forever 21
Skullcandy
Foot Locker
Eat24
Grub hub
Abercrombie & Fitch
Boxed
CVS
25 Other Services That Accept Venmo QR Codes
Many fast-food restaurants also accept Venmo QR codes because it is helpful for them to increase their range of customers.
William Sonoma
Mighty Eagle
Chipotle
Uber
Lyft
Delivery.com
Eat24
Grub Hub
Seamless
Uber
Eats
Dolly
Game time
Hulu
Amazon
Adidas
Coach
Kohl's
Macy's
Nordstrom
Nike
Samsung
Under
Armour
Wayfair
Which Stores Do Not Accept Venmo?
Some stores still need to start taking the Venmo QR codes because they are not accustomed to the process yet. Such as –
Aeropostale
Ace
Hardware
Aldi
Apple's
online store
AutoZone
Best Buy
Big Lots
Buckle
World of Camping
Chick-fil-A
Dollar General
Dollar Tree
Domino's Pizza
Door Dash
Below
GameStop
Gap
Ikea
In The Box (Jack)
JCPenney
Lowe's
McDonald's
Meijer
Menards
Michaels
Nordstrom
Office Depot
O'Reilly Auto Parts
Overstock
Panera
Postmates
Rite Aid
Ross Stores
Sephora
Sonic
7-Eleven
Sherwin-Williams
Sprouts
Staples
Starbucks
StubHub
Salon Ultra
Verizon
Wayfair
Wegmans
Wendy's
How to Pay with Venmo QR Code in Store?
Using Venmo at stores has got to be one of the easiest things because you do not have to deal with physical cash or cards. Contactless payment systems should become more common as it is more convenient and safer.
When you reach the cashier, look for the QR code; if they do not have one, let them scan your Venmo QR code.
Confirm the amount of the purchase.
You will be asked to select a favorable payment method.
Once the payment is made, you will be notified that your purchase has been successful.
What is The Spending Limit with Venmo in Stores?
Every good thing has its limits, and so does Venmo. You can only shop for unlimited if your bank account allows it on Venmo, as Venmo has a limitation. If your account has not yet been verified, you will be allowed a weekly spending limit of $299.99. Once you verify your account, you will be allowed to make purchases of a maximum of $7,000 per week. Venmo also allows you to send up to $60,000 to another user weekly.
Frequently Asked Questions
Does Target accept Venmo QR codes?
Target accepts Venmo QR codes at most of their locations. You can pay using Venmo on the cashier's register or the self-checkout using the QR code displayed. Target also accepts Venmo MasterCard debit cards in many of its stores.
Where can I use my Venmo QR code?
There are many stores that accept Venmo QR codes all over the US. You have to walk up to the counter and ask them if they have any Venmo QR code which you can use to scan and make your payment.
Does Walmart accept Venmo QR codes?
Can you scan Venmo at stores?
Yes, you can, simply using your mobile device's camera to scan a QR code for a merchant and pay with your Venmo account in-store utilizing contactless payment. You may now use QR codes in shops to make purchases using your Venmo account. Just to the Me section of your Venmo app and tap the QR code next to your image.
Where can I get gas with the Venmo QR code?
Final Words
In recent times, there have been a lot of stores that accept Venmo QR codes. This is because people have started preferring contactless payments more over physical cash or card after the pandemic. It is easier and more convenient as you do not have to carry cash or cards whenever you head out. You can pay using the Venmo app from your phone, which saves time and hassle. More and more stores accept this payment method because everyone wants to expand their business to new customers.
With over 3 years of financial experience, Hannah Edwards is the senior writer for All Finance Deals. She recommends research-based financial information about Transfer Money, Gift Cards and Banking. Hannah also completed graduation in Accounting from Harvard University.