Leading banks have the facility to load money into your account or on your card at ATMs. Even some App like Chime, Cash App, Varo etc. can load money at the retail store like Walgreens, Walmart but not at ATMs. But, Venmo is an exception here. Venmo does not allow you the capability to add money to your Venmo account either at ATMs otherwise at any of the retail stores. So are there any methods to add cash to Venmo? Can You Add Money to Venmo Card at ATM? Is it really possible?
What is Venmo?
Venmo is a mobile payment service of PayPal. Venmo offers individuals to send and receive cash using a smartphone app. Venmo also provides merchants to get payments from persons using the service.
Can You Add Money to Venmo Card at ATM?
Venmo presently does not offer you to add or deposit money to Venmo Card at ATMs or even retail stores like Walgreens, Walmart, etc. You do not truly need cash in your Venmo balance to make a payment with Venmo. You can link a bank debit card or a bank account; otherwise, link your CashApp Card to Venmo. And then you make payments straight from such a connected payment system via Venmo.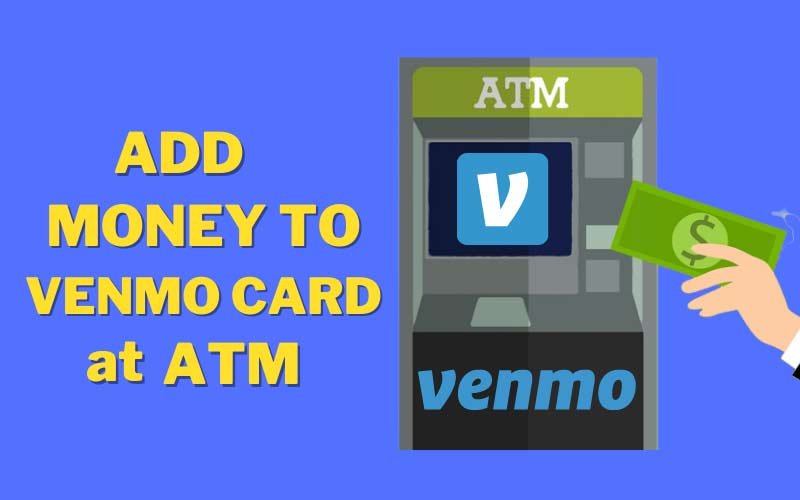 Add Money to Your Bank Account (Linked on Venmo) and Load Cash at the Bank ATM
Thus, if you have the money you want to use on Venmo, you could load it to a connected bank account at your bank's ATM. Then make payment via Venmo using such linked bank debit card or bank account. Venmo offers you to add four debit cards at a time. Therefore, you could add your bank debit card to Venmo.
Most banks like Wells Fargo, Chase, Bank of America etc. offer you to load money at their ATM. Just add money to your bank account on your bank's ATM when you want to load money for your use on Venmo. The money is available to use on Venmo since you can make payments directly from a connected debit card to make payment via Venmo.
If, for several reasons, you want to add money to your Venmo balance only. Then it would be a two-step procedure where-
You add the money to your bank account connected in Venmo at your bank ATM regularly.
Next, transfer the cash from a connected bank account to Venmo (which could take 3-5 days for a standard transfer).
Learn More: How to Use Google Pay at ATM? A Complete Guide
Other Ways to Fund Venmo Accounts
If the above options are not appropriate for you, there are a few other methods to fund your Venmo account:
Venmo Debit Card Reload
The reload feature of the Venmo debit card offers you to expend more than the Venmo balance by withdrawing the shortage from your connected bank account.
Ask a Friend
Using Venmo, you can arrange to give somebody money in exchange for them to send you cash. This money would instantly reveal in your Venmo balance. Only use this technique with people you trust totally. It is very easy to get cheated in this way.
Cash a Cheque Service
Cheque service is only available for Venmo User. If you have a Vemo Debit Card, you can access this feature to add fund to Venmo Account. Nothing to worry about, if you haven't. Choose Direct Deposit option to add funds easily.
How to Add Money to Venmo instantly?
It is a newly introduced feature in Venmo which might not be accessible to all users. If you have a linked bank account in Venmo and an active Venmo Debit Card, you could add cash to your Venmo balance instantaneously in the app. 
With this feature, the money is obtainable in your Venmo account instantaneously. However, it takes 3-5 days for debit to reveal in your bank account. The purpose is to aid you in getting access to money in urgent conditions. Because of these transfers procedure, the charge will not reflect on the bank statement immediately. The process of adding money to Venmo is here.
Adding Money to Venmo via Bank
Tap on Profile icon from bottom menu
Then enter "Settings" option
Then go to "Payment Methods"
Tap on "Add a Bank or Card"
Tap on "Bank"
The select verification method
Then follow on-screen instruction
How to Load a Venmo Card at Walmart?
Venmo is a popular cash-sharing app among youngsters these days. Walmart is one of the most popular shops that accept payments via Venmo. So, it offers you to load Venmo cards at Walmart.
With Walmart Rapid Reload, You could easily add money to your Venmo card. All you need to do is pick the easy procedure for you. You could either swipe reload by a check or cash.
Swipe Reload with Cash
Take your Venmo card plus a pre-printed government check to any registered Walmart store to add money to your Venmo card at Walmart. Carry the sum that you want to load on your card. Let the cashier check your balance, plus load the amount on your card.
Swipe Reload with Card
On partaking at your adjacent registered Walmart store, a cashier would swipe your Venmo card plus add the cash straight to your Venmo card.
How to Add Money to Venmo Card at Walgreens?
You have to be a registered associate at Walgreens if you want to add cash to your Venmo card at Walgreens. Follow the steps to add cash to your Venmo card on Walgreens:
Go to the adjacent registered Walgreens store
Request a cashier to add cash to your Venmo account
The cashier, afterwards checking if you are a registered Walgreens client, will ask for the money you want to add to your Venmo account. The cashier would use a card-reading machine to load cash to your Venmo in a few seconds. If you are not a registered Walgreens client, the cashier may request you to pay a fee to start the transfer.
How to Load Venmo Cards at CVS?
You can put cash into your Venmo card at CVS in the following way. You need to go to a registered CVS store and ask the cashier to add money to your Venmo account. Hand over the amount to the cashier, and wait until he uses a card-reading machine to load money to your Venmo card at the store.
Venmo Purchase Amount Limits
Along with the daily withdrawal cap, Venmo limits how much you could spend on purchases. No single buying with your Venmo card could exceed $3,000. And on a weekly basis, you cannot make more than $4,999.99 in acquisitions with your Venmo debit card.
Reloading the Venmo Debit Card
The Venmo debit card is a prepaid card. You have to add cash to it regularly to be capable of making buying or money withdrawals. You could select a bank account as your funding source for reloads while signing up for the card. The money for buying truly comes out of your Venmo balance. But you will need a bank account for reloads if your credit is too low to do a transaction.
Here is how that works. If you want to make a buy but you do not have enough in your Venmo balance toward paying in full. The reload feature automatically adds cash to your Venmo account in $10 increases to cover the buying amount. The one object you have to watch for is making sure you do not overdraw your bank account toward topping up your Venmo account.
If that occurs, you might get hit with non-sufficient funds charges. You could turn the reload feature off at any time. However, if you do that, you will not be able to make buying with a Venmo card that your Venmo balance cannot cover. Venmo does not take you any fees for reloads. That is a nice perk as most prepaid debit cards tack on some payment to add cash to your balance.
Wrap Up
So while there are no straight means to add cash to Venmo, you could do this indirectly by adding money to a connected bank account otherwise linked prepaid card similar to Cash App Card. We hope that Venmo offers this as a standard feature to avoid jumping over so many hoops to attain this. Hope this article clarifies all doubt about Can You Add Money to Venmo Card at ATM.
With over 3 years of financial experience, Hannah Edwards is the senior writer for All Finance Deals. She recommends research-based financial information about Transfer Money, Gift Cards and Banking. Hannah also completed graduation in Accounting from Harvard University.