PayPal is not a new payment method you hear. Its popularity is beyond our reach. As a global payment system, it expands a huge network. We should appreciate PayPal's service because it makes regular payment possible. You can't hate PayPal, because it has no major flaws. From Prepaid cards to virtual cards, everything can access if you have an authorized PayPal account. If you achieve a prepaid card from PayPal. You should link it to your account first. Then you can transfer money from prepaid card to account or account to prepaid card. However, check out the real guide on how to link PayPal prepaid card to PayPal account.
What is a PayPal Prepaid Card?
PayPal Prepaid Card is a type of debit card. You can treat it as a Mastercard. You can use PayPal Prepaid Card wherever MasterCard is used. This prepaid card can be loaded via direct deposit or transfer from your linked PayPal account. Additionally, you can personally add money to this prepaid card at a Netspend Reload network location.
How Does PayPal Prepaid Card Work?
A prepaid card from PayPal helps you in adding funds to the account and can complete payments with the card. You can use this card in-store to purchase goods for business or personal purposes. You should go to specific online stores where this debit card is acceptable.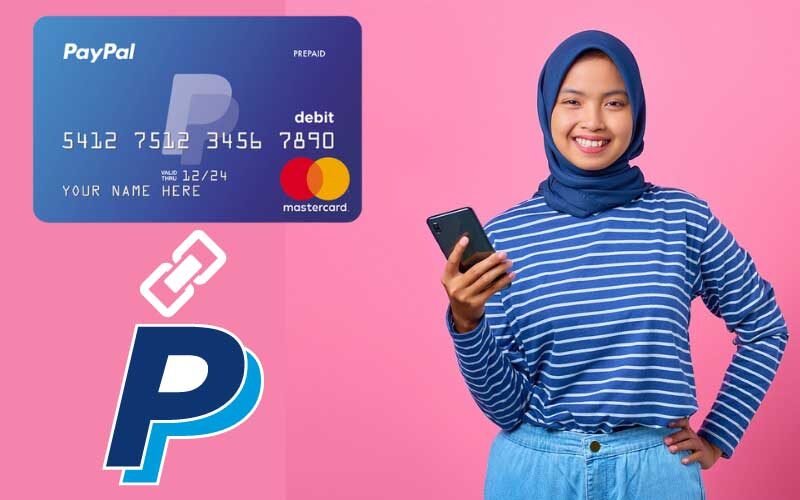 How Much is a PayPal Prepaid Card?
The fees of the PayPal Prepaid Card are different for starters and older. Starters require $4.95/mo. PayPal will cut the fee within 36 hours of loading the card for the first time. Also, ATM charges $1.95 per withdrawal.
How to Get Prepaid PayPal Card?
Getting a Prepaid debit card from PayPal is not a tricky job. If you have a PayPal account, you will eligible for getting this card. Let's see how to do this.
You can also set up a prepaid card to receive a paycheck, tax refund, and other govt. Benefits through Direct Deposit. Also can link your PayPal account with this card to start transferring.
Latest Post
How to Link PayPal Prepaid Card to PayPal Account?
You may encounter this error "the supplied PayPal account is not linked to your prepaid account". It's a usual error every user sees if they are not linked to a prepaid account. Linking a prepaid account card is necessary to access all functions. To achieve full access to PayPal Prepaid Card, you must link this card to your PayPal account. No matter if you are using a Personal, Premier, or Business account. While PayPal Prepaid Card activation is processing, the account holder will be asked to link the PayPal account. In this case, you have to fill out login credentials for the account. You can also use the below procedure to complete linking.
How to Add Prepaid PayPal Card to PayPal Account?
Through Web
Tap on Wallet from the top of the page
Tap on Link a debit or credit card from the left side
Follow on-screen instructions to link this prepaid debit card
Through Mobile App
Open PayPal App
Tap on Wallet
Tapon (+) from Banks and Cards option
Tap on Debit and Credit Cards
Link the card manually or add a Bank account to PayPal
To add a card manually, enter the debit card number
Then tap on Link Card Manually
How to Activate PayPal Prepaid Card?
Here is a step-by-step guideline, on how you can activate a PayPal Prepaid Card for using an online store or other places.
Tap on Activate your Card Account here. You will see it below "Order Your Card" option
Fill out with Card Number and Security Code. Usually, the card number is 20 or 16 digits long and CVC or Security Code is a 3-digit number
Then Continue
Fill out the form with your actual name, address, social security number, date of birth, phone number, e-mail address, and PayPal account credentials
Set a 4-digit PIN code
Then Continue
Now follow on-screen instructions to complete the Activation process
How to Activate PayPal Prepaid Card Without SSN?
Do you need a Social Security Number in order to activate your PayPal prepaid debit MasterCard? Since Paypal prepaid debit MasterCard is coming from a financial institution. They are required to abide by federal rules and laws and one of those rules is called the Patriot Act. Financial institutions must keep basic information about their users. Social Security Number is a piece of basic information so if you plan on using PayPal Prepaid Card as a reloadable card meaning using money, adding money.
Then you will need to provide a Social Security Number. If you don't provide it, PayPal will close down the reloadable function of the card but you'll still be able to use the money that you have added to your PayPal prepaid debit MasterCard. But once that money is fully used up, you cannot reload money onto the card. So it becomes more of a gift card as opposed to a reloadable prepaid debit Mastercard. It really depends on how you're going to use the card, if you do plan on using it as a reloadable card then you will need a Social Security Number.
How Does PayPal Prepaid Mastercard Instant Transfer Work?
PayPal has both "Standard Transfer" and "Instant Transfer" systems. Standard Transfer takes 1-3 days to reach your amount to banks. Because it goes to both merchant accounts and individual account users. So, it's a time-consuming process and very annoying.
On the other hand, PayPal "Instant Transfer" allows you to transfer money within 30 minutes. It's like you get a real-time payment for online chores. PayPal unveils this feature in 2019 and is eligible for all accounts, not only for US accounts. Account-holders are happy to have an Instant Transfer facility. To perform this action follow these two steps.
1) Link Eligible Debit Card or Eligible Bank Account
Before using the Instant Transfer feature, you have to link a debit card or bank account to PayPal. This is not a hard process, you just go to the PayPal homepage. Use Bank/Debit Card option to start adding bank accounts or debit cards.
2) Tap "Transfer Money"
Once you linked your Bank Account and Debit Card. Go to the money transfer page. Choose your preferred method to withdraw funds instantly.
Standard transfer – 1-3 days
Instant transfer to a debit card – up to 30 mins
Instant transfer to bank account – up to 30 mins
Final Draft
In the conclusion, we have learned about the PayPal Prepaid card. Now we know how to link PayPal prepaid card to a PayPal account. This lesson, help us to access all of our PayPal money and to use it with Prepaid Card. When you have a debit card, you can use it anywhere Master is used. So, nothing should be left!
With over 3 years of financial experience, Hannah Edwards is the senior writer for All Finance Deals. She recommends research-based financial information about Transfer Money, Gift Cards and Banking. Hannah also completed graduation in Accounting from Harvard University.